2006 SHOW RESULTS
Irish Horse Extravaganza
March 17 in Langley B.C.
our Canadian hosts and hostesses put up
a marvelous show! What was conceived to be just a fun one-day show
with a few horses turned into a major outing for all concerned.

Melanie White, of M and M Connemaras, graciously opened up her
beautiful farm and facilities to us, and went the extra mile to make
sure we were all taken care of. When our colt Ollie was suddenly
overwhelmed by the onset of puberty (being surrounded by mares in
season, and about 15 breeding stallions all in a new location!), she
kindly swapped out his stable assignment to allow him a closed stall
inside, where he could recover his brains and get some rest.

As about five times the people and horses planned for came to this
show, the facility was very crowded, well past its actual capacity.
The layout was excellent, however, and with a dedicated crowd of
traffic control volunteers, trucks and trailers were routed through
for unloading, and then were parked along the incoming road on both
sides for quite a ways! Show managers and volunteers all did a simply
outstanding job of coordinating, and what could have been a sorry mess
turned out to be one of the best-run, most enjoyable events I've been to.

There were nice writeups in local news papers, which brought in a
fair number of non-show people as well - in the afternoon we spoke to
numerous families, who had come out to see the "Irish Horses". I have
one of the papers, and will try to get a scan of it's article up later
on - quotes from Melanie on the Connemara, and from Leslie and Duncan
Kerfoot on the Irish Draught.

As the Connemara people in BC were our main sponsors and hosts, we got
to see the cream of the crop for that lovely breed, a real treat. I
must say that it was a delightful experience, meeting and working with
this whole group of folks, who went so far out of their way to make us
welcome. I got to meet people within our own breed I have only
communicated with via email, and visit with some people I have only
heard of - truly an enjoyable time.

Highlight of the morning for me was the Stallion Parade!

Six Irish Draught stallions and our 22 month old stallion prospect, in
order of go:

Manu Forti's Touch Down ID (TOTB x Kerryoak Lady Dawn)
Glenbow Hill ID (typo in program - someone please correct???)
Semper Aedem ID (Beeston Laird x Clovis Too)
Napoleon Dynamite ID (Beeston Laird x Ballinrobe Pearl)
In Shining Armor ID (Glenlara x Westfield Beauty)
Beeston Laird RID (Beeston Lord Henry x Beeston Bowhill)
Snowford O'Donnell RID (Banks Fee Daniel x Harepark Pink)
Yes Master ID (Uibh Fhaili x Glen Heste Goldie)

Three RIDHS stallions in order of go:

To Be Sure (Mountain Pearl x Lark Wynn)
Priceless Clover (Clover Cliste x Mirabelle)
Kings Ransome (Flagmount King x PRs Melanie)

Three Connemaras in order of go:

Elfin's Lorcan (Maplehurst Michael MacDaire x Aluinn DeHaoine)
Bien Mallin Drogheda Red Hand (Landgates Holy Smoke x Bien Mallin's
Northern Lights)
MGRM The Quiet Man (Fairyhill Hawk x Rabbit Run)

It was a real treat to see these gorgeous horses, many of whom I had
only seen pictures of, performing right before my eyes. The spectators
were set up right at arena level, and had the performance literally in
their laps - thrilling! We will do this again next spring!
****************************************************************
NWSHBA Breeders Classic
Sept. 8-10 in Spanaway WA
The Northwest Sporthorse Breeders Assocation's Breeders Classic is the big year-end show for our area for sporthorse breeders, and only the second show we went to this year. We
took our two year old purebred colt, Ollie (Manu Forti's Touch Down)
and the three weanling IDSH kids, all by Snowford O'Donnell RID.

Our filly Perfect World took the blue in the ID Breed class for
partbreds, which was a USDF Dressage Breeding class, with a score of
74.7 before judge Peter Hansen.
Mr. Hansen scored Ollie in the purebred Breed class at 73.2, with the comment "very nice riding horse type", which pleased us no end! Ollie's handler was Patrick Billes, who did an outstanding job with him, and showed him to best advantage.

Saturday's USDF Dressage Breeding classes were also good, with our weanling
colt Crackin' Good given a 63.5 by judge Merijane Malouin, who scolded
me for not showing him to his full potential in the trot - I am not a very good runner on my best day! He stood second in the class, qualifying for the Championship, against Deb Burksfield's 2 year old colt Mongan Mac Lir, and Ollie who was in the Purebred class. The
Championship for Dressage type ID was won by Deb's colt, who was *very* quiet, and Ollie took Reserve despite his being *very* animated and giving Patrick plenty to deal with.

Sunday were the Hunter classes before judge Joyce Ainsworth. We took the babies into open USEF Hunter Breeding classes, against the Warmblood foals, and did respectably.
Filly Perfect World stood third
(against two little warmblood foals who were still on their dams and
therefore WAY too cute) and the boys Crackin' Good and Dreams Come
True were third and fourth in their Weanling Colts/Geldings class.

We then showed in the ID Hunter Type classes (purebred and partbred again in separate classes for this show). Crackin' once again qualified for the Champion Hunter Type ID against Deb's older colt, and he drew the Reserve Championship against the two older horses in that class, with Mongan Mac Lir taking home the Championship trophy (sponsored by Homesick Angels Farm) and Ollie taking third. Our other colt Dreams Come True was just not at his best for this show, having come off a bout of intestinal upset and diarrehea the previous week. He showed his best, but did look a bit rough - judges' comments reflected this, but they were good honest judges and placed the classes as they saw the horses on each day.
Championship classes were both double judged, providing good feedback
on the horses.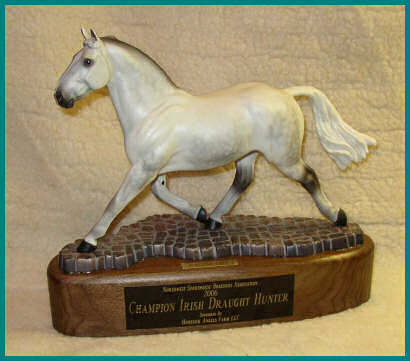 We took all three kiddies into a USDF Dressage Breeding Get of Sire for their daddy Snowford O'Donnells RID on Saturday, and were able to educate Ms. Malouin on our breed, which she was geniunely interested in. On Sunday we took the threesome into the USEF Hunter Breeding
Breeders' Group class, and had good comments and interaction regarding our breed with Ms. Ainsworth as well - so the educational opportunities were not passed by!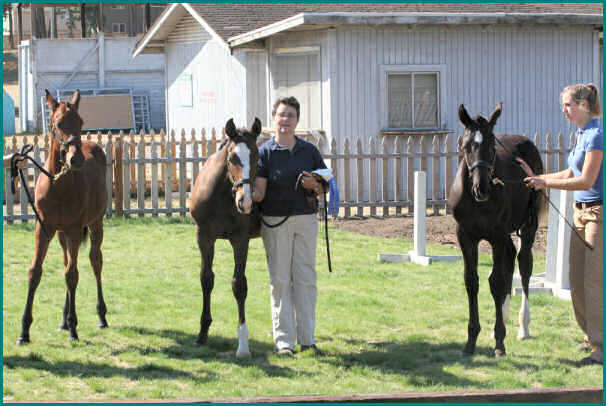 We were very pleased to have good judges this year, and all three were quite interested to hear about the IDSH and the Irish Draught - so we are counting it a very successful outing for the breed. Lyn Lindstrom, Membership Secretary for the Irish Draught Horse Society (NA)
and I set up the NW Region's Society booth and display under the awning of our RV trailer, which we had set up right across from our barn area. Got lots of interest and good comments and we introduced many new people to the breed.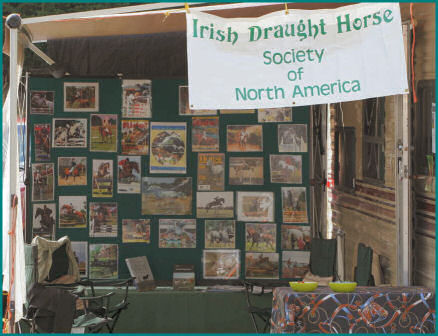 All in all, a fine show! Our little Irish corner of the world was the most peaceful, much quieter and no wallbanging or kicking-screaming horses as in some of the other areas with the warmblood colts and stallions. Congenial company and good visiting made for relaxing times
to offset the rush and hurry of class preparations, and a good time was had by all!
NEWS FLASH JANUARY 2007!!
Crackin' Good has been named the Champion In-Hand Horse, Two and Under, for the
Irish Draught Horse Society of North America